Who Are You?Edit
Who Are You?
is the first mission of them Empire Story mode in the Nintendo GameCube Video Game
Zoids Battle Legends
based
TOMY
's
Zoids
model franchise.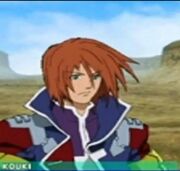 The mission begins when Kouki abandons his storming reconnaisance team. Kouki tried in vain to look for his teammates, feeling that his Zoid is malfunctioning or his command system is frozen. After a matter of time, Kouki stumbles into an outpost while a battle is going on until everything he sees are in ruins. When Kouki arrives, he saw melted Zoids; (probably caused by a Charged Particle Beam). Only a matter of time, he runs over to a Command Wolf, piloted by Shoma. When it happened, the two fought.
The player must use quick dodge and shooting tactic constantly. Avoid going closer to the enemy Zoid. The mission is a success when player defeats Shoma.
Characters
Edit
Below is the in-game script leading up to the mission.
Ad blocker interference detected!
Wikia is a free-to-use site that makes money from advertising. We have a modified experience for viewers using ad blockers

Wikia is not accessible if you've made further modifications. Remove the custom ad blocker rule(s) and the page will load as expected.