Van Flyheight (Van Freiheit in the Japanese version) is a fictional character from Zoids: Chaotic Century and Zoids: Guardian Force. In both series, he is the main protagonist.
He is voiced Daisuke Kishio in the Japanese version and Matthew Erikson in the English version.
Overview
Chaotic Century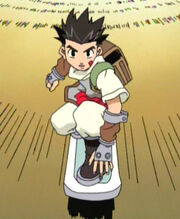 Van was born and raised in the Wind Colony village. It is shown that he has a sister named Maria and a father named
Dan Flyheight
. It is never said what happened to his mother. He and his sister became orphaned after there father was killed defending the Wind Colony and an
Organoid
(which later turns out to be Shadow) from the
Imperial
Army. At the beginning of the series, Van is seen being chased by a bandit piloting a
Guysak
into an old ruin. Inside, he finds two capsule. Upon opening one, he finds a Organoid. While hostile at first, Van is able to win him over, and names him
Zeke
. When the Guysak attacks, Zeke pushes it away, and takes Van to a
Shield Liger
. Much to Van's surprise, Zeke brings the Zoid back to life, and Van is able to fight off the bandits. Zeke then brings Van back to the ruin, and helps him open the second capsule, which contains a girl. Van decides to take the to back to his village. On the way back to the village, Van trys to talk to the girl. While she is not able to remember anything, she does say the word Fiona. As such, she is given the name
Fiona
. While at the village, the bandits return, and kidnaps Van's sister. Van decides to go after her, and is able to defeat the bandits. Afterwords, Van decides to leave with Fiona and Zeke, knowing that if he stays, his village will be attacked again.
On their adventure, the group meets Irvine a mercenary. He gives them food, and directs them to a old military base. At the base, Van's group is attacked by a white Gordos. After escaping the Gordos, Fiona becomes separated from the group. She then finds an ancient pillar, and remembers the "Zoid Eve". She tells this to Van, and Van decides to help her find it, hoping her memory will be restored. The two are then attacked by Irvine, who is trying to steal Zeke. After a quick skirmish, in which the Gordos is hurt, Van is able to defeat Irvine.
One night, Fiona emptys out all of Van's water (saying it smelled funny). Though annoyed, Van is forced to get some more water. At a village, Van runs into Irvine, though this time Irvine helps Van fight off the bandits that are attacking the village. Van and Fiona set off again, but during their trip, Fiona eats Van's last papaya. While annoyed with her, the two come under attack by sleeping Guysaks, they defeat them, and happen across a Gustav. Van meets the pilot, Moonbay, a transporter. The group also comes into contact with Irvine again, though he says he and Moonbay know one another. Irvine tries to steal Zeke, again, but Van stops him. Before they get into a fight, the sleeper Guysaks return. Moonbay destroys her cargo to protect Van and Fiona, and forces Van to become her bodyguard.
It would not be long before Van's group is caught by the Helic Republic, who put them in jail, but not after Zeke makes a run for it. They meet Irvine again, who helps Van escape, though Fiona and Moonbay are left behind. After fighting their way out, they learn from both O'Connell and Herman that Moonbay had signed them up to fight the Guylos Empire. After a victory against the Empire, the group leaves, this time with Irvine on their side. The group decides to head to the Helic capital, and stop at a village for supplys. While waiting in a hotel, Fiona tells Van that it's time to gather supplies. Much to her surprise, Van runs, and she gives chase. Reason why he is running is because Fiona is not wearing anything at all. After the mix up, Van and Moonbay head into town to gather supplies. During this time, they run into the same bandits who have been after Van. After a chase, the group is able to get to their Zoids, but the Imperial army attacks, after the bandits leader, Rosso. The group leaves, as Rosso is taken into custody.
Van's group, still being chased by Imperial forces, comes into a valley were Rare Hurtz is located. Because of the Rare Hertz, Van is told to turn his "Pulse Guard" on. Zeke doesn't have a Pulse Guard, and goes berserk. Van leaves the group, and chases after him, but is pushed off a cliff by Zeke. When Van wakes up, Fiona is watching him, and she explains that his arm was bleeding. Van calls it a "flesh wound", and they set off to find Zeke. They do so, but Zeke takes control of Van's Shield Liger. Before Zeke can crush Van, Van tries to reason with him. With some help from Irvine, Van is able to win over Zeke, again.
After leaving the valley, the group begins to a mountainside, looking for a scientist named "Dr. D", whom they believe can help with Fiona's memories. Sure enough, they find him, but he is frozen in a block of ice. The group decides to wait for him to un-freeze, and during this time, Fiona makes Van and Irvine coffee. Van and Irvine gulp it down, but quickly spit it out, saying it tastes disgusting. Fiona then explains that she added salt into the coffee (this would be a running gag later on). By sun rise, Dr. D is unfrozen, and Van quickly asks him many questions. Dr. D says he would help, but only if Van does something for him in return. Dr. D wants Irvine and Van to take him to a set of ruins. However, the group is attacked by sleepers, which are guarding an unmanned republican supply base. Dr. D is intending to raid for parts on his latest invention, revealing that he knows absolutely nothing about Zoid Eve in the process. His invention is to try and make it snow on the mountain he lives on. Dr. D, who had escaped by himself is attacked by a Guysak, but is saved by Moonbay (not before the Guysak destroys his house).
Instead of leaving Dr. D, the group helps him make his snow machine, and, to their surprise, it begins to snow. However, it was nature that caused it to snow, not Dr. D invention. The group then heads to Mt. Iselina. To save time, the group skips breakfast. This doesn't turn out so well, as Van begins to hallucinate about flying papayas, which he follows into the fog. Moonbay catches up with him, but Fiona and Irvine get lost. While waiting for them, Moonbay tells Van of the "Fog Monster". Much to their surprise, the "Fog Monster" appears, though it turns out to be nothing but a Godos piloted by a girl. The girl is reveled to be Rosa, who is the younger sister of Viola (the mercenary that was part of Rosso's group). When Viola does arrive, Van fights her Redler, and is able to win. Van knows that he can't tell Rosa about her sister being a mercenary. As such, he lies and calls himself the real mercenary. Viola plays along, and tells Van to leave, which he does. While leaving with Moonbay, Moonbay punchs Van, and calls him a idiot for doing something like that. He responds that it was best for Rosa. The two find Irvine and Fiona, and head out. While leaving, Van and Fiona fall asleep next to one another, and Moonbay commits that they should not skip breakfast again.
The next stop for the group is a Helic army base. The group notices destroyed Guysaks, and soldiers digging trenches. The group is soon arrested by the Helic army again, but Van, Fiona, and Zeke escape. While trying to evade patrols that were sent after them, the three find a boy, who helps them. After bringing the group to a spring, he leaves, but not before giving his name, Raven. It soon turns out that Raven is a ace Guylos pilot, and pilots a Sabre Tiger. Not only that, but Raven has an Organoid named Shadow. Van trys to fight him, but is quickly defeated. Van decides to have a rematch, though Fiona trys to talk him out of it. Van doesn't listen to her, and attacks Raven regardless. Raven is able to quickly defeat Van again, and Zeke is severely wounded. Van gets upset by this, and almost breaks his promise to Fiona about taking her to the Zoids Eve. Dr. D appears, and says Van can heal Zeke, though he would require Zoid Magnite. Getting it would involve Van lowering himself into a volcano. To make matters worse, Van has in till sunset to get it, or else Zeke would die. Despite the risks, Van goes through with it, leaving Fiona and Dr. D to watch over Zeke. Irvine heads over to a military base to try to steal a Gojulas. Van and Moonbay are able to get the blue rock, and Zeke is healed, though it would take some time before he is fully healed.
With Zeke healed, Van's group soon arrives at the Helic Captial, were the people a celebrating their victory against the Guylos Empire. Van wanders into an ally, and helps a prisoner escape a mob. When Van returns to his party, Fiona notices that something is wrong with Van. Before anyone can ask, Dr. D meets the group, and helps them "enter" a research institute. The whole purpose of this is to see if any of the artifacts there will help trigger Fiona's memory, but are surrounded by Republican soldiers and captured before Fiona can remember anything. The group is imprisoned, and Zeke is sent back to the research institute to be "examined". President Camford (Herman's mother) arrives and recognizes Dr. D. She releases them, and Van is able to reunite with Zeke. Suddenly, the escaped prisoner steals a Command Wolf "Power Reinforced" model. Van stops his rampage, and tackles him. Before he can knock him out, Fiona pleads with Van to stop, which he does.
While eating dinner, they over hear O'Connell talk about the disappearance of Herman. Moonbay agrees to help find Herman (for a "price"), and she and Fiona steal a Pteras. Van and Irvine help fight off the Guylos forces, and Van is given the chance to fight Raven again. With some help from Herman, Van is able to damage the Sabre Tiger, but it flees. Van and Irvine then head off to stop the main Guylos forces. After learning the Fiona's and Moonbay's Pteras had been shot down, Van rushes over to Mt. Osa to save them. He and Raven meet again, this time they try to finish of one another. Dispite Mt. Osa eruption, Van and Raven battle it out. Van turns on his Liger's shield, and charges Raven. Raven, in his fury, attacks Van, and tears his Tiger to shreds on Van's shield. With Raven defeat, and the city saved, Van and Fiona share a victory dance before heading out to find the Gurreal ruins.
At the Gurreal ruins, Van and Fiona split off from Irvine and Moonbay. While searching the ruins, Van does hear Fiona call for help. He runs to a clearing, but can't find her. Suddenly, Fiona falls out of a tree and lands on Van. Much to Van's annoyance, she climbed the tree for an orange, despite his claims of being "a papaya man". While ranting, he and Fiona come across a Rev Raptor, which chases after them. The Raptor chases the two to the edge of a cliff, and Van steps in front of Fiona, using himself to shield Fiona. This method doesn't work so well, as the Rev Raptor swipes the two off the cliff with it's tail. Luckly for the two, Zeke catches them with the Shield Liger, and Van defeats the sleeper Rev Raptor. After the battle, the group finds out the ruins have been excavated, but do find one fragment left. Fiona touches this, and remembers one word, "Death Saurer".
With the let down of the ruins, Van and group heads out again. While Moonbay tries to take the boys ring (offering water for it), the group stops her. The boy is soon reveled to be none other then prince Rudolph. Suddenly, Fiona tells the group to run, and passes out. The group sees a Redler fly over, but it is quickly destroyed. Raven arrives with his new Zoid, the Geno Saurer. Van tries to fight him, but is quickly defeated. Before Raven can finish Van off with the Charged Particle Cannon, Rosso and Viola arrive in a Iron Kong, and hold Raven off, allowing Van and the others to flee. After fleeing, the group decides to get some sleep. Later that night Van's group comes across a group of destroyed Redlers. The Redlers are stone, and Moonbay says that their Zoid Core has been destroyed. Van asks what a Zoid Core is, and Moonbay explains that it's the thing that keeps a Zoid alive. Knowing the risks if Van fights Raven again, Fiona begs him not to fight. Van agrees at first, but breaks his promise to Fiona, and he attacks Raven. After a fierce fight, Raven is able to defeat Van, and destroys his Shield Liger, almost killing Van Process. Van is able to escape the destruction of his Zoid with Zeke's help, but becomes upset knowing that his Zoid is dead.
Van notices that Rudolph had been kidnapped, and chases off to rescue him. With Irvine's help, Van is able to save the prince, and they head back to camp. When they arrive, they notice that Fiona and Zeke are missing, and a whirlwind surrounding the downed Liger. Dr. D tells them what has happened, and Van becomes upset, saying he should be fused with Zeke and the Liger, not Fiona. He leaves, and finds some ruins, which look like the ones back home. While staring off into space, he hears Fiona's voice. She says that she hates what Van has become. Van heads back to the whirlwind, but is attacked by a Guysak. He hijacks it, and heads back to camp. When he returns, he finds a group of mercenaries loyal to Prozen. The leader of the group is Stinger. After the Guysak is destroyed, Van tries to defeat Stinger and his Sabre Tiger with only an assault rifle, but is blasted into the whirlwind. There, he hears Fiona voice. She tells Van that while his friends may not seem to appreciate what he does on the outside, they do care for him. Van then awakens in a new Zoid, which Fiona says is his now. The new Zoid is the Blade Liger. With this new Zoid, Van beats the mercenaries, and is able to reunite with Fiona and Zeke.
After some encounters with Hel Digunners, helping a village get a vaccine, and escaping a road block, the group finds themselves at a forked road. Van, Fiona, and Rudolph split from the group, as they decide to have a race. Van's group comes under attack by Schubaltz's unit. After they escape them, Van learns he lost the race. After these experiences, they arrive at McMahon house, who was Moonbays ex. While they wanted to leave her there, she refuses, and the group travels through the Valley of Heroes, were Van fights The Three Guards. After so many encounters with the Empire, the group finally makes it to Guygalos.
At Guygalos, the group takes up residents with President Homolef, though Van decides to find the military "science lab". Fiona tags along, and the two are surprised to find that Prozen had been waiting for them. While Van is upset by Prozen's taunts, Fiona jumps from the Liger, and approaches Prozen. Prozen (calling Fiona Van's girlfriend) is shocked to learn that Fiona is a Ancient Zoidian. Fiona then says her true name, Elisi Linette. She tries to tell Prozen to not use the Death Saurer, though he doesn't listen and kidnaps her, leaving Van to fight off the Rev Raptors. Van fights the Raptors off, and destroys part of the wall of the lab. He finds Fiona, and the two set off, barely escaping the Death Saurer. After Van and Fiona escape, they meet Raven and his Geno Saurer. Raven asks Van to hand Fiona over, but Van refuses, and attacks Raven. Fiona and Zeke are knocked out, and Van is faced to fight the Geno Saurer alone. After the Liger takes a beating, Van is able to damage the Geno Saurer. However, Raven knocks the Liger over, and prepares to fire the Charged Particle Cannon. While Van thinks it's all over, Fiona and Zeke fuse with the Liger. Fiona then appears to Van (though in a ghost like form) and shows her support of Van as means of a kiss on the lips. With her help, Van defeats Raven, and heads over to stop Prozen.
During the final battle with Prozen, Fiona notes that Van brings hope to all. Van is able to defeat the Death Saurer after he slashes through the core of the Death Saurer, thus destroying the Death Saurer and, supposedly, killing Prozen. Van and Fiona don't take part in the celebration, as Van still keeps his promise to Fiona about finding the Zoids Eve.
Guardian Force
Two years after the fall of the Death Saurer, Van is a Lieutenant in the Republican army. One day, Van finds out Colonel Krueger is retiring. While Van doesn't like this idea, Krueger says it's for the best, and tells Van to take some time off. Van then decides to take a trip back home. After visiting his father's grave, Van meets Hiltz, who simply leaves after saying Van's name. While Van wonders on this, his sister, Maria, meets him. After a chat with his sister, Van decides to visit the ruins he found Zeke and Fiona in. While there, he comes across a destroyed Gustav. Hearing a girl's voice from inside, Van quickly searches it, and comes across a wounded girl. While Van is unaware of who she is, she wakes up in his arms and Van releases that it is Fiona. While the two are happy to be together again, Fiona tells Van he needs to get Dr. D, who is buried under some rubble. Van takes the two back home, and leaves them in care of the local doctor.
When Van returns to his old house, he finds Fiona examining a pocketknife on the wall. Van says that belonged to his father. He then asks Fiona if she is ok, which she responds that she is. The two discuss what they have been doing for the past two years. After Fiona tells Van he has matured (which causes Van to blush) hey then hear a scream from Van's sister. Van and Zeke rush over to find out what is wrong, while Fiona runs back inside the house. Van and Zeke discover that Maria is under attack by a red Organoid. It attacks Van, but Fiona throws him the pocketknife. Van fights of the Organoid, but it fuses with a Steath Viper, which then attacks Van village. Van defeats the Viper, and decides he and Fiona must head off again. Before he leaves, Van becomes a member of the Guardian Force.
After a fight with a Gunsniper, Van and Fiona are sent to investigate the disappearance of O'Connell, along with most of a town's population. As soon as they arrive, Fiona is captured by a Godos. Van is about to use the sniper rifle on his Blade Liger, but has a vision of hitting Fiona instead. Zeke is the one who saves her, and Van takes out the Godos. Fiona asks Van why he hesitated. He replies that he doesn't know. The two enter the two, and are attacked by a girl. Van flips her over, but before he can punch her, Fiona stops him, saying it's only a scared girl. Van then heads to the ruins in the town, Fiona asks him if he is going to fight again. He responds that he will, but only to protect the innocent. While Fiona is worried about Van, the girl comforts Fiona. Van leaves the two with Zeke, though he runs off after a beetle. Inside the ruins, Van finds all the stone tablets missing, and the town population tied up in "webs". Van finds O'Connell, who talks about a Blue Devil. Van finds out that the "Devil" is the girl he left Fiona with. Van heads towards them, but is attacked by beetles. After he defeats them, he runs into Zeke, and the two head towards the church. They find the girl, who says she is Reese. Reese has her Orgnaoid, Specula, fuse with a Double Sworder, and attacks Van. Reese also uses the bells of the church to control a group of Godos to attack Van. Van is about to destroy the bells, but notices Fiona is tied next to them. While worried about Fiona, Van fires anyways, and is able to destroy the bells and keep Fiona alive. After defeating Reese, Van asks Fiona if she was worried, Fiona replies that she knew Van would come through for her.
Soon after, Van is assigned to meet up with Schubaltz. Van and Fiona believe they are to meet Karl Schubaltz, and head into town. After a incident in which Zeke protects two children from a cart, Zeke gets covered in paint. Fiona and the children, instead of washing it, paint it in, meaning Zeke is now red. While Van gets annoyed by this, a unknown man fires a gun at Van. The man turns out to be the younger brother of Karl, Thomas Richard Schubaltz. He believes Van is the enemy, and is trying to harm a mother and her children. Thomas is not aware that Van is not an enemy, nor is Fiona a mother, the children simply followed the pair. Upon seeing Fiona, Thomas quickly falls for her, and begins to see Van as a rival for her (though neither Van nor Fiona are aware of this). After the mix up is sorted through, Thomas explains that a group of bandits are calling themselves Republican Soldiers, and threaten to destroy the town if the residents don't leave. The group heads off to fight them, and are able to win.
Van's next assignment is to find out about unknown Zoids that have been attacking trade routes. Much to Van's annoyance, his partner on this assignment is Thomas. As the group investigates the woods, they are attacked by Helcats. After falling them back to their camp, Van and Thomas set off to stop the bandits, but are captured, and meet the mastermind behind all the attacks, none other then Hiltz. Before Thomas Van are killed, Fiona arrives, wielding two assault rifles, and threatening to turn any of Hiltz men into "food for the buzzards". Her plan backs fires, as Ambient, Hiltz Organoid, attacks her, causing her to fire wildly and lights the fuses of TNT. The group flees, as Hiltz men give chase. Van and Thomas are able to get to their Zoids, and fight the Helcats off.
Van's fifth assignment is to stop a group of Zoid Hunters, who are capturing large amount of Zoids. To do so, Van hides in a Rev Raptor, which is taken abroad a Whale King. While looking around, Van is spotted, and he tries to make a run for it. However, he is knocked out by an unknown attacker. Van finds out that Irvine is the attacker, and is working with the Hunters. Van becomes angry with him, but finds out Irvine is working to stop them, and the two team up to stop them. After faking his death, Van and Irvine head into the Hunters base. They are captured, and find out the Hunters are trying to make new Zoids, in a process that the Geno Saurer was made. The leader of the Zoid Hunters is about to kill them, but Zeke saves the two, and brings them to the Blade Liger. Fiona greets Van with an embrace, but the two don't have that much time to spend together, as they have to finish of the Hunters. Van is able to plow through the enemy Zoids, but has to save Fiona. Van rescues her, but the Whale Kings engines fail, and it begins to plummet. Van and Fiona hold on to one another, and they see Hiltz, who taunts them and leaves. Afterwards, Irvine saves the two.
Soon, Van and Fiona are assigned to find out what happened to Karl. Thomas is upset by this mission, since his brother is in trouble. There are two ways into the base, by Zoid and by foot. Van takes the foot path with Zeke. After facing soldiers under control of Reese (though not killing them), he finds out Fiona has been kidnapped by Reese. Suddenly, a Molga appears with a bomb attached to it, and explodes next to him. Van survives the blast, and rescues Fiona. Soon afterwards, the two learn about the destruction of military bases by a boy and black Organoid, Van and Fiona realize that Raven might still be alive. As they set up a defense to defeat Raven, Fiona stares out of a watch tower. Van finds her there, and asks her what's wrong. Fiona says that she is worried if Raven is alive. Van replies that no matter what, he would always be there for her. Before Fiona can respond, Raven attacks the base. Van gets to his Liger, and faces Raven's Dark Horn. Upon seeing Van, Raven snaps out of his trance, and leaves.
After the battle, Van and Fiona decide to take a break with Rudolph. While Thomas is against this, he decides to after Marian, Rudolph's fiancé, says she'll help Thomas get together with Fiona. Van doesn't take note of this, and is more worried about protecting Rudolph. Soon, Stinger (the mercenary from before) arrives, and kidnaps Rudolph. Van beats Stinger and his men, and he and Fiona head off.
During a military exercise, Van meets Irvine, Moonbay, and Dr. D again. The group learns from Thomas that Raven has a new Geno Saurer, and Van decides to face him. Van is almost killed by Raven, but Moonbay uses her Gustav to protect him. While recovering from the attack, the base Van and Fiona are staying at comes under attack by ex-Imperial soldiers, who steal a pair of Storm Sworders. Van, along with the rest of the group, is able to defeat them and Rosso and Viola. After the defeat of the Storm Sworders, Van and Fiona get a message from Dr. D to head over to Lumiere Island.
When they arrive at the Island, they find Dr. D in a swimsuit, surrounded by girls. Dr. D explains that he brought the two over here so they can relax. Fiona and Zeke don't need to hear this twice, and quickly head towards the water. It takes some convincing, but Van does join in the fun, and hangs around the girls (causing Fiona to become jealous). Later that day, Fiona and Van take turns jumping off a rope swing. On her swing, Fiona doesn't let go in time, and starts spinning. When she finally lets go, she lands next to Van, and asks him if she won, to which the two begin to laugh. Van decides to go check on Dr. D, and leaves Fiona alone. Van finds him in a cave, and Dr. D says he brought them here to help with an Ancient Zoidian city. Dr. D had set up a control center in the cave, and the girls are in fact his research assistants. Suddenly, Van hears Fiona call out his name, and rushes to her. He finds her, and although she has no physical damage, she is hurt emotional. Van leaves her in the care of Dr. D, and faces Reese. After taking out her Hammer Head and Double Sworder, Fiona cries out for Van to rescue Reese, which he does. The group only has time to catch a glimpse of the Ancient Zoidian city, as it sinks into the sea. Once Van heads to the mainland, he hears about the Geno Saurer. Van leads a force against it, but it evolves into a Geno Breaker. The Geno Breaker defeats most of the force, and destroys Irvine Command Wolf. Irvine would get a new Zoid, the Lightning Saix. A new commander is sent in to help defeat the Geno Breaker, Colonel Halford. Despite the others not liking Halford at all, Van shows him some respect, given that he used to work with Van's father. Before long, the Geno Breaker makes another appearance, and Van, Irvine, and Thomas, along with Halford's forces, set off to destroy the Geno Breaker. While Van is able to cut off the Geno Breakers foot lock, this doesn't stop it from firing the Charged Particle Cannon. Van, knowing he has the only working Zoid and that his friends are in trouble, leads the Geno Breaker away. Knowing what Van is up to, Fiona takes a Pteras and tries to talk Van out of attacking the Geno Breaker. Van doesn't listen, and is knocked off a cliff.
Van wakes up on a cliff, but passes out and falls in a river. He wakes up again, and knows if he can't find help soon, he could die. He then thinks about his friends, and then Fiona. Van believes that they are most likely worried about him. Despite being weak, he is able to find a village, but soon passes out. He then dreams of Fiona, but the dream turns into a nightmare, and he wakes up in a cave. In the cave, he finds a boy and a Helcat. The boy introduces himself as Nichalo, and the Helcat as Tivrol. Van helps Nichalo pilot Tivrol, and he mentions something about a "girl". It is not long before Zeapers, an old enemy of Van, arrives at the village Van is staying at, and threatens to burn the village to the ground if Van is not brought to him. Van arrives in a stolen Rev Raptor, and fights off Zeapers men, but is soon defeated. Before he is killed, Thomas, Moonbay, and Irvine arrive and defeat Zeapers and his men. Van is reunited with his friends, and Fiona. Van learns from the village elder that Nichalo and Tivrol have been dead for 10 years.
Later on, Van begins to feel that his Liger is sluggish. While everyone thinks he needs new boosters, Fiona begins to see that something is wrong with Zeke. While Van doesn't seem to worry that much, Moonbay takes note that Fiona is upset about this. When asked about it, Fiona says that Zeke has a new power that could kill Van. Much to her relief, Zeke's new power is only to speed up Van's Liger. After the booster incident, Van is told he must stop the Phantom, a person trying to kill Rudolph. Van is able to, and is then assigned to defeat Gareth's organization and the Trinity Ghost. After this, Van gets ready to face the Geno Breaker again.
With new Attack Boosters set on the Blade Liger, Van sets off to fight Raven, though he is unaware that Fiona is looking for him. Van is able to get the best of Raven, even cutting off on of the Geno Breakers X-Breakers. Suddenly, the Death Stinger fires it's Charged Particle Cannon at the two, almost killing both Van and Raven. While Irvine and Thomas try to defeat the Death Stinger, Van has to fight Reese. Despite being weak against the fight with the Geno Breaker, Van fights a good fight against Reese and her Geno Saurer, though he is almost defeated. Van heads to the Helic Captial, and finds it in ruins. Hethen gets a coded message to head Windeen Lake. When he arrives, he finds the Ultrasaurus. The Ultrasaurus needs some time to power up, so Van and Irvine decide to fight off Hiltz's Helcats and the Death Stinger, giving time for the Ultrasaurus power up and escape. Although it's a near suicidal mission, the two accept it regardless.
Van and Irvine fight wave after wave of Helcats, but unknown to them, Hiltz and his Death Stinger are in firing position. He fires the Charged Particle Cannon at them, but Rosso and Viola arrive in their Storm Sworders, and save the two just before the blast destroys them. The two are then carried to the Ultrasaurus. Once Van lands on board the Ultrasaurus, Fiona rushes over to him, and greets him with a hug. The two spend some time together, but their moment is short lived, as the Death Stinger and a group Sinkers attack the Ultrasaurus. The Ultrasaurus is able to hold off the Zoid, and they arrive at the Guylos Empire to pick up the Gravity Cannon.
Once again, Van has to protect the Ultrasaurus, as a new wave of Sinkers attack. Van holds them off with a Pteras, giving the Ultrasaurus enough time to equip the Gravity Cannon.
With the Gravity Cannon attached to the Ultrasaurus, the Guylos and Helic forces attack the Death Stinger. Van, Irvine, and Thomas are sent to attack the Death Stinger, and use a energy shield to trap it. The Ultrasaurus fires the Gravity Cannon, and the Death Stinger is defeated. However, the Death Stinger lived, and to make matters worse, The Dark Kaiser kidnaps Fiona, and brings her to the Zoids Eve. Van races after her, but is unable to stop the Death Saurer from being revived. Knowing that nothing can damage the Death Saurer, Fiona decides to sacrifice herself to destroy the Zoids Eve, the Death Saurer, and every Zoid on Zi. Van talks her out of this, and comes up with the idea of firing himself out of the Gravity Cannon into the Death Saurer. Raven, who has teamed up with Van, is able to destroy the shield on the Death Saurer, and Van's plan works, as he is able to slice through the Death Saurer, destroying it and Hiltz.
As the series ends, Van has lived his dream of becoming the greatest Zoid pilot on Zi. He then leaves with Fiona and Zeke, in search of new adventures, and to possible start a romantic relationship with Fiona.
Manga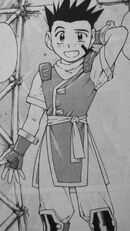 In the manga adaption of Chaotic Century, Van appears as a young, zest-filled boy who dreams of following his father's footsteps to become a great Zoid pilot (much like the anime). He ends up getting chased by a rogue Guysak (which has no pilot, unlike the anime) and takes cover in an old ruin, where he uncovers two mysterious pods. From the first, larger pod, Zeke is born, and quickly becomes Van's best friend. Fiona emerges from the second pod, which Van ends up taking back to his home village. However, Raven strikes, using his Organoid, Shadow, to infect a Sabre Tiger with a virus that causes it to rampage and attack the town. With Fiona's help, Van and Zeke defeat the Sabre Tiger, and then set out on an adventure together. As the story progresses, Van meets more characters who are familiar to the anime (Moonbay, Irvine, Herman, Schubaltz) as well as some who are exclusive to the manga (Melissa-Sue, Lulu, Hanna, etc.) His encounters begin to differ from his ventures in the anime, with certain details becoming much more crucial in later volumes.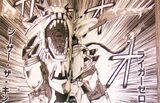 Near the start of the series, Van first wins over the trust of a Shield Liger named Caesar (who was told by his previous owner to become the partner of a human who would cry tears for a Zoid). The two became a strong team, able to overcome any obstacles thrown in their path. When they travel to the lake city of Wendeen, Raven appears again with his new Geno Saurer and attacks the colony, which proves a little two much for Caesar to handle. However, Zeke is able to fuse with the Liger, transforming him into a Blade Liger. Using their new strength, Van, Caesar, and Zeke are able to drive Raven away. Later on in the series, Caeser would become badly wounded by the Death Stinger, and have his Core transplanted into a proto-type Liger Zero. Van was then able to defeat the Death Stinger and rescue Kirsche Hartriegel. Before Van's final battle against Raven and the Berserk Fury Shadow Edge, Caeser would undergo another transformation, becoming Liger Zero Caeser The King, a Liger similar to the Zero, but fashioned with a pair of laser blades that resemble the Blade Liger's. Van would be triumphant in this fight, able to reason with Raven and cure him of his hate for Zoids due to a frightening accident that took place in his past.
Personality
At the start of the series, Van is somewhat immature and headstrong. He acts out on emotion, and gets upset if he loses a battle. As the series progresses, Van matures. His personality is a open one, and many people are attracted to him. Van does care for his friends deeply, and goes out of his way to protect them if they are in trouble. Van also cares for Zoids, and gets upset if someone abuses a Zoid.
It is shown that his favorite food is papaya.
Appearance
Anime
In the Anime, Van is shown with a typical face with black eyes that either have wide pupils or no pupils at all. He has black hair, which is in a spikey style. He also has a ponytail. He has a red rectangle mark on the left side of his face. Van's voice stays the same throught the series.
In Chaotic Century, he has a typical build of people around his age, and is shown to be somewhat athletic. In Guardian Force, Van is taller then before (being around a average height) and is much more muscular.
Chaotic Century
Van's most common outfit in Chaotic Century is a one-peice tan colored suit. He wears a grey shirt with brown trim and two olive colored straps the one-peice. The shirt has two yellow strips on the left side of chest, and a red belt.
Van does wear what appears to be gloves/wrist guards, which are brown in the center with a grey trim. The gloves do expose the fingers, with one peice covering half the ring finger.
For shoes, Van wears black boots, with what appears to be a wide metal trim.
Guardian Force
Van's first outfit in Guardian Force is a standard Helic suit.
His second outfit is a one-peice dark tan suit that covers the body. He wears a blue shirt with brown trim over it. He also has a brown belt.
Van's third outfit is the one he appears in the most.
The suit is a two-peice with a pants part and shirt part. The shirt consits of two colors. The center of it is a grey/blue, with red around the neck and shoulders, there is a grey/blue square on each arm part as well. The shirt also has two yellow/orange color ovals on each shoulders. The pants part has two colors, grey/blue and brown. The center of the pants is grey/blue, with brown surrounding the rest. A loose set of brown fabric with a white trim surrounds the pants, giving the looks of a skirt. The outift parts connect at the center of the body. While the back is covered, the outfit opens up in the center, exposing Van's abdomen.
The new outfit also comes with gloves, that cover most of the hand, but leaves half the fingers exposed.
For footwear, Van is seen wearing the same boots.
Manga
Ability as a Zoid Pilot
Anime
Dispite never piloting a Zoid, Van does fairly well the first time he pilots a Zoid. His victorys, however, are due mostly to Zeke. As the series moves on, Van is able to defeat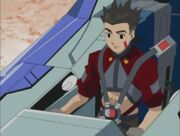 opponets without Zeke's help. Van does have a fast pace fighting style. Givin the Zoids he has, Van Is a effective close range fighter, and relys on his Ligers teeth and
Blades
to defeat opponents. Due to a modification, Van's Blade Liger can attach either a sniper rifle or a gatling gun to the blades, allowing Van to fight at either medium to long range, though he will normally activate his
shield
and charge at a enemy. Van does act hot headed or emonotial in battle. He can be seen gloating over any win he has, and gets upset if his friends are hurt in battle. If his friends are in danger, Van will often acted rash, and only think protecting them, and not focus on defeating his opponents.
Because of Vans fast pace fighting style, he did begin to think that his Blade Liger was sluggish. Doctor D. explained that it was not the Liger that was sluggish, but Vans ability as a pilot has improved so much that Van needed a newer Zoid to keep up with him, or upgrade the Liger with a new booster system. It turns out that Van didn't need any of these, as Zeke had a new ability that help the Liger keep up with Van
Van's Zoid of choice was the Shield Liger. After it was destroyed, Van gets a new Zoid, the Blade Liger. Van uses the Blade Liger for the rest of Chaotic Century and Guardian Force, He does pilot a Ptera, and is one of the few character to not be shot down in one.
Manga
It is emphasized greatly in the manga that Van has a kind heart, and cares deeply for the well-being of all Zoids. Like in the anime, he starts out as a somewhat skilled pilot. He earns the trust of Caesar, a Shield Liger, who used to guard the tomb of Moonbay's brother; the two work together throughout the series to defeat a number of enemies. More often than not, Zeke fuses with Caesar to help Van, providing an extra boost of strength.
Unlike the anime, Van often fuses with Zeke in order to take on enemies. This teamwork is first introduced in the first volume; Zeke opens up a compartment in his chest and uses special tubes to bind Van to himself. While fused, Van and Zeke possess incredible power, able to defeat a Guysak in a single assault, with consisted of Zeke ramming into the larger Zoid, sending it reeling away.
Although Van comes off a childish at times in the manga, he proves himself to be a great Zoid pilot as the series progresses, impressing his friends and enemies. He is able to figure the enemies weakness and attack accordingly, using Caesar's abilities and his own strategizing to become victorious. Throughout the series, he deploys Caesar's shield in a number of different ways, including using it to guard a large aquatic Zoid from stray underwater explosives, and propel Caesar foreword while submerged underwater. In later volumes, Van is able to match Zoids that are far faster or more powerful than Caesar with awesome potential--this includes his battle against the Death Stinger, and a 2-on-1 showdown between Caesar (who had since become a Liger Zero) and a Liger Zero Jager along with a Liger Zero Schneider.
Relationships
Throughout the series, Van is shown to have many different relationships:
Anime
Fiona: When Van first found Fiona, he was confused by her odd behavior. He did become annoyed with her when she puts herself in danger, eats his food, and empty out all of his water. Despite this, he does see Fiona as a friend. As the series progresses, Van would become closer with Fiona, and the two eventually develop a bond and close friendship. Van does care about Fiona greatly, and does call her his best friend (he calls Zeke his best friend as well). Van has also gone out of his way on many occasions to protect Fiona from harm. It's hinted that Van did develop feelings for Fiona, and had fallen in love with her.
Zeke: While Zeke was hostile to Van at first, Van was able to win over the Organoid. Zeke is called Van's best friend (along with Fiona), and Van does his best to protect Zeke. Zeke does return this favor, and protects Van when ever he's in trouble. Zeke is very loyal to Van, and will normally obey whatever Van says (if he's not chasing butterflies). Zeke is also able to help Van's Blade Liger to keep up with Van fast pace fighting style.
Irvine: The first time they met, Irvine and Van were hostile to each other. After more encounters with Irvine, the two pilots would become friends. While Irvine does get annoyed with Van when he acts childish, he does watch out for him. Irvine also reminds everyone that Van has grown, and is not a little kid. Van does become upset when Irvine is hurt in battle against Raven's Geno Saurer.
Moonbay: While Moonbay did force Van to become her bodyguard, the two have a good friendship. She does doubt his piloting ability at first, but would trust him more. She does call him a kid from time to time, and does get annoyed when Van forgets to thank her for the upgrades to his liger (as Van normally thanks Fiona for the upgrades).
Thomas: The first meeting between the two was not the best. Thomas thought that Van was Hiltz, and arrested him. After the mix up, Van would become friends with Thomas. Thomas does get annoyed with Van, and normally makes statements calling Van lazy. Oddly enough, Van thinks the same about Thomas. Thomas does see Van as a rival for Fiona, though Van is unaware of this.
Raven: Van and Raven are bitter rival, as the two are normally in combat. Raven is also does try to kill Van on many occasions, but is never able to, though he has severely wounded Van. In addition, it was upon seeing Van that Raven was able to snap out of his trance that he had for so many years. By the ending of the series, Van and Raven would appear friendlier to each other, though it's never said if they were friends.
Colonel Herman: Van and Herman are also seen teaming up throughout the series. Herman sees Van as highly-potential Zoid pilot, Van also supports Herman's leadership as General Krueger told him.
Colonel Krueger: Krueger is shown to be a mentor to Van since he joined the Republican Army. Van actually knows that Krueger is true friend of his father, and the person who saved his life. When he sees Van and Herman together, it reminds him about him and Dan together, which he told Van that Krueger and Dan had a blast together. He also told him to provide a full support to Herman's leadership.
Rudolph: Rudolph thinks highly of Van and looks up to as both a mentor and a friend. Van not only taught Rudolph how to properly pilot a Zoid, but also risks his life to protect him. The two are often seen chatting informally, as they quickly form a tight bond.
Dr. D: Van frequently becomes annoyed by Dr. D's rather irksome manners. Despite this, both see the other as a friend. Van seems to always be grateful for Dr. D's advice, and his spectacular inventions.
Manga
Fiona: Van first encounters Fiona in person in the second volume--she quickly transfers her own energy to him so that he can continue fighting Raven, who had begun to attack Van's village using a Sabre Tiger. The two soon set off on an adventure together, eventually able to learn about Zoid Eve from a special Zoid named Horai. Like the anime, he and Fiona form a close bond. Fiona aids Van through his battles, lending her strange powers to him, making him stronger.
Zeke: Zeke becomes fast friends with Van. During their first encounter, the two merge and take out a Guysak that attacked them in the old ruins where they first met. Both trust each other, and work as a team to defeat foes. In the manga, Van frequently merges with Zeke (via the Organoid opening a compartment in his chest and absorbing Van) to battle.
Caesar: The Shield Liger, Caesar, first appears as a vicious Zoid, chasing away and attacking anyone who wanders into the vicinity of his pilot's grave (as he was told to protect it). However, Van is able to win over his trust, becoming Caesar's new owner. Through the entire series, Caesar would serve as Van's partner, remaining loyal to him. As the story progresses, Caesar undergoes several different transformations--first into a Blade Liger, then to a Liger Zero, and finally, Liger Zero Ceasar The King.
Irvine: Van and Irvine get off to a bad start; they immediately begin arguing and fighting when they first meet. Despite this, the two later become close allies. Irvine is seen aiding Van in battle, as well as keeping him in check.
Moonbay: Moonbay and Van are friendly towards the other, though they don't interact too often. Van helps Moonbay recover an old treasure of her deceased brother, which she appears very grateful for. During a visit to Moonbay's family, Van acquires a new set of clothes (resembling his attire in the anime somewhat) that he wears for the rest of the series.
Raven: Like in the anime, Raven and Van become rivals immediately; Van can't stand Raven for hating Zoids and wanting to destroy them, and is bitter over the fact that Raven mercilessly attacked his home village. Throughout the series, the two battle a number of times, with Van always becoming victorious in the end. At the series' end, Van is able to stand up to Raven one final time, able to cure him of his hatred for Zoids. The two seem to be on good terms after this event.
Trivia
In Chaotic Century, Van's favorite food is said to be papayas. However, there is no mention of this Guardian Force.
On the colored covers of the manga, Van's eyes are red, whereas in the anime, they are dark brown.