Finally! Modeling is finished. Everything has been updated significantly, from the head blade to the tail. Where the old model involved ~2500 vertices the new one has closer to 10,000.
Several parts received a complete overhaul. You'll notice the cannons are now more reasonably sized, and that the right-side cannon is now a laser-gatling gun. I decided that the old cannons just looked ridiculous, so I started by downsizing them. The gatling was then added because I felt that only one long-range cannon was needed and that it would increase the Genoblade's mid-range capabilities.
The shoulder rockets are now less noticeable as they're integrated right into the shoulder armor. (The old ones, while more visible, just looked atrocious) I also decided to move the rear blades from universal joints to the more traditional fold-out blade mounts. Being on universal joints just didn't make sense for the role they play. The booster system has also been further upgraded to include two larger boosters mounted on the backpack.
Finally, the most exciting part. With the new model, Genoblade 2.0 is now fully poseable. Below is the "bone" structure used to pose / animate. I made a little test of the rig here :)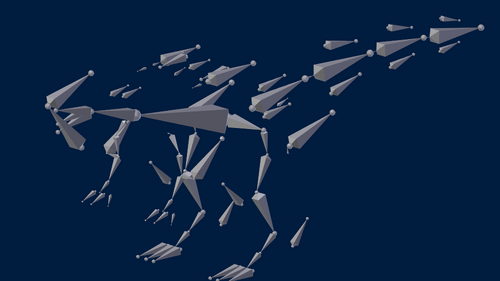 Comments / criticism is appreciated!