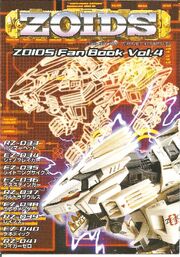 The Zoids Franchise has multiple pamphlets used for advertising or detailing both the Zoids kits and the Battle Stories. These include fanbooks, magazines and posters. Many are available with purchase of a Zoid model, included in the purchased Zoid's box. There have also been prints made as their own product for purchase separate from a Zoid model such as custom model books, Zoid video game guides or encyclopedias.
Zoids Graphics
Edit
A series of prints detailing the early Battle Story. There were two releases named Zoids Graphics - the first was during the OJR line, while the second accompanied the Zoids Graphics model line.
Zoids Graphix
Edit
A pamphlet was issued for the Neo Blox line called Zoids Graphix. It showed the different Neo Blox, Custom Blox and Legend Blox Zoids prior to the release of the Legend Blox Red Horn.
Zoids Official Fanbook
Edit
A series of larger Zoids magazines sold separately from the models, released from 2000 to 2004. Along with telling the newer Battle Story, these advertised custom Zoids relating to the Battle Story as well as other Zoids products.
Zoids Fanbook
Edit
Available with the NJR Zoids, these prints show box art and promotional pictures of then upcoming and available Zoids. Each advertised Zoid had a short description.
Fanbook EX
Edit
Not to be confused with the normal fanbooks, Zoids Fanbook EX were available with certain Zoids late in the NJR and BLOX lines. These pamphlets had detailed information on the Battle Story and included short episodes from the viewpoint of a Zoid pilot.
Volume 1 included with Gojulas Giga
Volume 2 included with Dimetrodon
Volume 3 included with Gorhecks
Volume 4 included with Arosaurer
Volume 5 included with Storch
Volume 6 included with Leogator
Volume 7 included with DimetroPtera
Volume 8 included with Jet Falcon (NJR)
Volume 9 included with Whitz Wolf (Three Tigers story)
Volume 10 included with Death Raser (Three Tigers story)
Volume 11 included with Rayse Tiger (Three Tigers story)
Volume 12 included with Brastle Tiger (Three Tigers story)
Additionally, full color continuations of the Fanbook EX story were included in the Siesmosaurus, Gairyuuki, Liger Zero Phoenix and Energy Liger (NJR) instruction books.   
Zoids Bible
Edit
Available in the exclusive Zoids Core Box along with a Mammoth model kit.
Zoids 10th Anniversary Encyclopedia
Edit
Celebrating the 10th anniversary of the animation, this 160 page book contains sections covering Chaotic Century and Guardian Force, New Century, Fuzors, and Genesis. It comes with a DVD featuring Van's Blade Liger. Though it is almost entirely in Japanese, the book is composed mainly of pictures.
A 96-page book which features customs, characters, and two mangas. It also came with two decal sheets for the Blade Liger and Geno Saurer.
Another sticker booklet, Zoids Customize Stickers, was released with images re-used from Zoids Battle World. Stickers of custom Zoids, Chaotic Century Chracters and individual models were borrowed from the book. The Blade Liger decals were also included as well as new decal sheets for Geno Breaker, Lightning Saix, Dibison and Hammer Head.
Zoids Models: Example Collection
Edit
Released April 30, 2010, this book shows new HMM models and customs from Hobby Magazine.
Zi-Report
Edit
Another set of pamphlets detailing Zoids battles much like Fanbook EX. These were available with certain NJR Zoids and certain trading card sets. Only one volume is known to exist.
Zoids Saga Fuzors Guidebooks
Edit
A pair of books depicting Zoids Fuzors products. One was a guide for the game Zoids Saga Fuzors with 95 color pages detailing the game's story, charcters and Zoids. To better illustrate some of the Zoids, this strategy guide re-used CGi images from the Zoids VS series. The second Zoids Saga Fuzors Guide was a promotional book with more information about the game as well as content about the Fuzors model line and anime series.
HMM Official Visual Book
Edit
A pamphlet included with the HMM Molga Anti-Air and Carrier set to mark the 10th model in the Highend Master Model Zoids. It fetured artwork and concepts unique to the new line.
Blade Liger Mirage Poster
Edit
To commemorate the 20th Zoid in the Kotobukiya HMM series, a poster was included with the HMM Blade Liger Mirage illustrating the box art Mercy Rabbit had made for the model.
Ad blocker interference detected!
Wikia is a free-to-use site that makes money from advertising. We have a modified experience for viewers using ad blockers

Wikia is not accessible if you've made further modifications. Remove the custom ad blocker rule(s) and the page will load as expected.