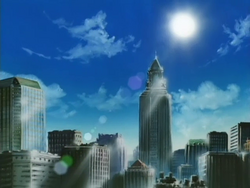 New Helic City is the capital, and largest city, of the Helic Republic. It is a coastal metropolis and is shown to be prone to colder weather than most other places in the nation.
The city features prominently in the Zoids: Chaotic Century anime where it becomes besieged by the forces of the Guylos Empire under Gunther Prozen until a ceasefire is organised after the ascension of Rudolph Zeppelin III as Emperor. The National Ancient Studies Research Institute is also located in New Helic City, which contains artefacts that help Fiona regain her memories.
New Helic City also houses the President of the Republic's Manor, which resembles the real-world The White House.