Home
Talk

72
732pages on
this wiki
Welcome to the Zoids Wiki! This the ultimate English Zoids database, and is expanding all the time! You too can easily become part of this Zoids community. We are currently harboring 732 articles with 2,573 images.

Please Note: Spoilers (regarding the anime, battle story, manga, etc.) are found on almost every page, with no warning as to where they begin and end.
Zoid of the Month: August
Murasame Liger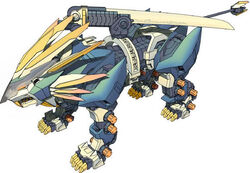 The Murasame Liger is a Lion-type Zoid, unique to the Zoids: Genesis fictional universe.

The Zoid's main weapon and most distinctive feature is the Murasame Sword, a large blade on the Zoid's back. The blade is mounted on a swiveling arm, which allows the blade to cover a 300' arc and to swing 90' from the top of the Zoid to either side (similar to the Blade Liger), but only one side at a time, meaning the pilot has to constantly switch the blade's side and position depending on which direction the enemy is attacking from. The sword has the characters '村雨' (pronounced murasame, meaning passing rain) engraved on it near its joints. The weapon is made from Metal Zi, an incredibly strong ancient metal...Read more
Zoid Pilot of the Month: August
Ra Kan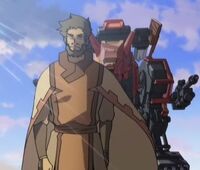 Ra Kan was once the leader of the nation of Kira, which was a large and prosperous nation that revolved around it agricultural and textile industries. It was one of the first to be subjected to Digald's offensive. It had a large number of large-scale Zoids, and could probably have won if they had gone to war. But Ra Kan, fearful of the losses that they would incur if such a battler were to take place, instead fled the country to avert the battle. This gave Digald the confidence to expand their insurgencies, and lead to them attacking many, many, countries. Eventually, he and the only person to come with him, his niece, Rei Mii would pass nearby Mirodo Village, which he would protect from Digald attacks. But eventually this village's Generator would be destroyed, and it was Ra Kan who suggested that they seek a mechanic to repair it... Read more
Zoids Sites & Forums:
The following is a list of Zoids sites. Please note we cannot be responsible for the contents nor the legal liability of the site. Please do not advertise anywhere else on this site beyond here.
The official Zoids site - Takara Tomy web site.
Zoids After Era - An Advanced Zoids RPG with a great system and an active community. A variety of Zoids to choose from and many possibilities to progress from there.
Zoids Rebirth - Fully automated Zoid RPG.
Zoids Philippines - The home of the Filipino Zoider.
Zoids Poison - Singapore-based international Zoids site.
Zoids US - Ultimate online resource for Zoids.
Crushader's site - A great resource for Ligers and other Zoids.
Lionel's site - A French collector's site covering a lot of material.
Zoikino - A Japanese site covering some great customs.
Zoids Lair - Site with sprites, model reviews, forums, and more.
Generation Zi - Zoids Forum based RPG
ZoidsCore - Zoids anime, manga, music and games resource site.
Zoids Card Gallery - A Zoids Card Gallery at sieg.nu
ChaoticAgeZero - A Zoids RPG with its own backstory
Japanese Zoids Wikipedia entry - The Japanese Zoids Wikipedia page(s)
Zoids Wild Frontiers - A Zoids Roleplaying Game and Battle site set in a (fanon) Zoids future
Disclaimer
: Zoids, The Zoids logo, Takara Tomy, and all associated marks, logos, places, names, creatures, races and race insignia/devices/logos/symbols, vehicles, locations, team and team insignia, characters, products, illustrations and images are either ®, ™ and/or © Takara Tomy, variably registered in Japan and other countries around the world and will be used in a way that qualifies as fair use under US copyright law. All Rights Reserved. All other trademarks, logos and copyrights are property of their respective owners.