Home
Talk

72
735pages on
this wiki
Welcome to the Zoids Wiki! This the ultimate English Zoids database, and is expanding all the time! You too can easily become part of this Zoids community. We are currently harboring 735 articles with 2,678 images.

Please Note: Spoilers (regarding the anime, battle story, manga, etc.) are found on almost every page, with no warning as to where they begin and end.
Red Horn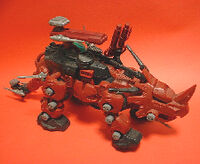 The Red Horn is a Styracosaurus-type Zoid, created by the Zenebas Empire. It was used by both the Zenebas and Guylos empires during the various wars on Zi.
The Red Horn was the first large Zoid to be produced by the Zenebas Empire. It was created to oppose the Gojulas and other large Helic Republic-created Zoids. The Red Horn, while relatively slow compared to later designs, possessed sufficient speed for the era of its creation, and boasted a considerable arsenal of weapons. The Red Horn's weaponry allows it to bombard enemies from a distance, while its horn allows it to engage them in melee combat.
The Red Horn also served in the Helic Republic for a time, known as the Green Horn (due to being green in color) and served as a precursor to the Mad Thunder as it had the prototype Anti-Charge Particle shield. It was reserved for testing purposes and not fielded in combat.
Zoid Pilot of the Month: March
Vareth
Vareth (Baluf in the Japanese version) is a fictional character from Zoids: Fuzors. Vareth hails from a tribe who forsook technology and left to live in a remote region of the continent. Vareth first appeared in episode 19 of Fuzors. He is part of an unknown team hired to defeat Blake and RD. His teammates are Dart and Sabre. Vareth is shown to have a typical Viking attitude (and appearance). He isn't too bright (as he calls a stop light a Christmas tree), and is rather loud and boisterous.
Vareth is shown to be a capable Zoid pilot. He is normally seen piloting a Gravity Wolf, and uses it to the best of his advantage
Zoids Sites & Forums:
The following is a list of Zoids sites. Please note we cannot be responsible for the contents nor the legal liability of the site. Please do not advertise anywhere else on this site beyond here.
The official Zoids site - Takara Tomy web site.
Zoids After Era - An Advanced Zoids RPG with a great system and an active community. A variety of Zoids to choose from and many possibilities to progress from there.
Zoid Warfare - MMO Browser Based Zoid Warfare!.
Zoids Philippines - The home of the Filipino Zoider.
Zoids Poison - Singapore-based international Zoids site.
Zoids US - Ultimate online resource for Zoids.
Crushader's site - A great resource for Ligers and other Zoids.
Lionel's site - A French collector's site covering a lot of material.
Zoikino - A Japanese site covering some great customs.
Zoids Lair - Site with sprites, model reviews, forums, and more.
Generation Zi - Zoids Forum based RPG
ZoidsCore - Zoids anime, manga, music and games resource site.
Zoids Card Gallery - A Zoids Card Gallery at sieg.nu
ChaoticAgeZero - A Zoids RPG with its own backstory
Japanese Zoids Wikipedia entry - The Japanese Zoids Wikipedia page(s)
Zoids Wild Frontiers - A Zoids Roleplaying Game and Battle site set in a (fanon) Zoids future
ZoidsCore - A forum based Zoids RPG set 25 years after the events of Zoids: New Century. Join in on the adventures of a Zoids Battle Commission that has become corrupt and Nightshade, a group led by Dagon Obscura who has taken over the Backdraft.
Disclaimer: Zoids, The Zoids logo, Takara Tomy, and all associated marks, logos, places, names, creatures, races and race insignia/devices/logos/symbols, vehicles, locations, team and team insignia, characters, products, illustrations and images are either ®, ™ and/or © Takara Tomy, variably registered in Japan and other countries around the world and will be used in a way that qualifies as fair use under US copyright law. All Rights Reserved. All other trademarks, logos and copyrights are property of their respective owners.