Home
Talk

72
737pages on
this wiki
Welcome to the Zoids Wiki! This the ultimate English Zoids database, and is expanding all the time! You too can easily become part of this Zoids community. We are currently harboring 737 articles with 2,919 images.

Please Note: Spoilers (regarding the anime, battle story, manga, etc.) are found on almost every page, with no warning as to where they begin and end.
Zoid of the Month: September
Leoblaze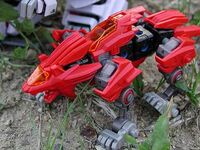 The Leoblaze is a Lion type of Zoid designed by the ZOITEC Corporation for use by the Helic Republic in their counter-offensive against the Neo-Zenebas Empire. Believed to be the first Blox-type Zoid to be put into mass production, the Leoblaze was designed to work with the Unenlagia. The two units support and complement each other, the Leoblaze being capable in close combat while the Unenlagia provided long-ranged fire.
First deployed in ZAC 2102, the Zoid was eagerly adopted by the devastated Helic armies, who were desperate for new weapons to face the Neo-Zenebas forces with. The Zoid proved to be effective against the smaller Neo-Zenebas Zoids like the Demantis and Guntiger, as well as the Chimera Blox. The design was later replaced with an advanced derivative, the Leostriker.
Zoid Pilot of the Month: September
Arrow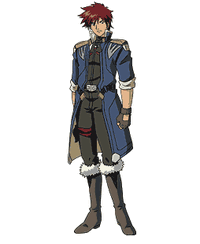 Arrow is the main protagonist of Zoids VS III as well as an agent of ZOITEC. Together with his female partner, Alma. He is also called by the alias "Red Whirlwind." Arrow and Alma are given several missions to capture criminals who are in connection with the Zi-Arms Foundation. Arrow is considered to a ruthless person at a first glance, although he carries a strong sense of justice.
Arrow's main Zoid is a Rayse Tiger, called Rayse Tiger AS which posses greater speed, turning ability and endurance than a normal Rayse Tiger. A different color scheme differentiates the AS from a regular Rayse Tiger. Read more
Zoids Sites & Forums:
The following is a list of Zoids sites. Please note we cannot be responsible for the contents nor the legal liability of the site. Please do not advertise anywhere else on this site beyond here.
The official Zoids site - Takara Tomy web site.
Zoids After Era - An Advanced Zoids RPG with a great system and an active community. A variety of Zoids to choose from and many possibilities to progress from there.
Zoids Philippines - The home of the Filipino Zoider.
Zoids Poison - Singapore-based international Zoids site.
Zoids US - Ultimate online resource for Zoids.
Crushader's site - A great resource for Ligers and other Zoids.
Lionel's site - A French collector's site covering a lot of material.
Zoikino - A Japanese site covering some great customs.
Zoids Lair - Site with sprites, model reviews, forums, and more.
Generation Zi - Zoids Forum based RPG
ZoidsCore - Zoids anime, manga, music and games resource site.
Zoids Card Gallery - A Zoids Card Gallery at sieg.nu
ChaoticAgeZero - A Zoids RPG with its own backstory
Japanese Zoids Wikipedia entry - The Japanese Zoids Wikipedia page(s)
Zoids Wild Frontiers - A Zoids Roleplaying Game and Battle site set in a (fanon) Zoids future
ZoidsCore - A forum based Zoids RPG set 25 years after the events of Zoids: New Century. Join in on the adventures of a Zoids Battle Commission that has become corrupt and Nightshade, a group led by Dagon Obscura who has taken over the Backdraft.
ZoidsForum.com - Forum for Zoid discussion of all types!
Zoid Warfare - MMO Browser Based Zoid Warfare!
Zoids: Battle Century - A Zoids online forum-based creative cooperative writing project based in an original, fan-created continuity. This site focuses primarily on character and world building, and welcomes all capable writers.
Disclaimer: Zoids, The Zoids logo, Takara Tomy, and all associated marks, logos, places, names, creatures, races and race insignia/devices/logos/symbols, vehicles, locations, team and team insignia, characters, products, illustrations and images are either ®, ™ and/or © Takara Tomy, variably registered in Japan and other countries around the world and will be used in a way that qualifies as fair use under US copyright law. All Rights Reserved. All other trademarks, logos and copyrights are property of their respective owners.