Jr Zoids is a set of miniature Zoids.
Jr-Zoids

Jr-Zoids logo.
Start Date
End Date
Includes Zoids From
N/A
Regions
Japan
Designation
The Jr. Zoids were a small line of 1/155 scale, posable Zoid toys. Pre-assembled other than the adding of small parts like weapons, they included die-cast parts and extra stickers for markings (with some marking stickers already applied, such as Gojulas' eyes).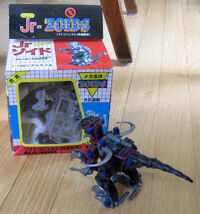 This line was released in Japan. There were five Zoids in the line, and an "Iron Kong vs Gojulas" box set.
Gojulas Mk.II (regular, not Limited)
Iron Kong Mk.II (regular)
Ad blocker interference detected!
Wikia is a free-to-use site that makes money from advertising. We have a modified experience for viewers using ad blockers

Wikia is not accessible if you've made further modifications. Remove the custom ad blocker rule(s) and the page will load as expected.