D-Style is a series of simple model kits from different anime and video game series, including some Zoids, made by Kotobukiya.
D-Style

D-Style logo.
Start Date
2011
End Date
Includes Zoids From
N/A
Regions
Japan
Designation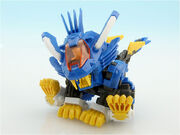 D-Style Zoids are smaller then most released Zoids and have large "Chibi" heads similar to Bandai's Super Deformed series of Gundam. They have no motors and are more flexible then their motorized counterparts (though less so than HMM Zoids). No painting is required, as all the colors are molded into the plastic save the pilots, who are molded in white plastic.
These kits featured pilots from the Chaotic Century anime, such as Van, Irvine and Moonbay.
Blade Liger was the first Zoid of this mixed-series line and was sold in 2011. However, Death Saurer had been seen at hobby conventions before the Blade Liger and closely followed the Liger in release. Various other Zoids were seen non-consecutively in the D-Style line through 2013.
Ad blocker interference detected!
Wikia is a free-to-use site that makes money from advertising. We have a modified experience for viewers using ad blockers

Wikia is not accessible if you've made further modifications. Remove the custom ad blocker rule(s) and the page will load as expected.