Ambient
Talk

0
732pages on
this wiki
Ambient is fictional character in the Zoids: Guardian Force. He is the Organoid of the antagonist, Hiltz.
Before Guardian Force, Raven's parents found Ambient. When released, Ambient quickly attacked the two, killing them. A young Raven witnessed this, and attacked Ambient, only to be knocked away. With this, Ambient left.
Ambient first appearance is in episode 1, where he attacks Van's sister, and then Van. Van fights him off, and Ambient fuses with a Stealth Viper, which attacks the Wind Colony. Van is able to defeat the two, and Ambient escapes with the pilot. However, it's soon revealed that Hiltz is Ambient's owner, after Ambient throws the pilot off a cliff. After that, Ambient is shown being around Hiltz, and accompanies him on most of his plans.
At one point in the series, it was implied by Reese that Ambient tampered with the Zoid Core of Raven's new Geno Saurer, thus the red panels present on the zoid as opposed to the original purple and black. Later, when Shadow, Raven's organoid, fused with the new Geno Saurer, transforming it into the Geno Breaker, Reese even states to Hiltz and Ambient, who are watching Raven from afar, that the Geno Breaker should have been black and not red, followed by Reese sarcastically addressing Ambient.
Ambient was instrumental in helping Hiltz create the Death Stinger. Hiltz used his own Ancient Zoidian knowledge and Ambients' Organoid abilities to restore, mutate, and combine the cores of the two scorpion zoids that defeated the original Death Saurer. Ambient then followed on Hiltz's campaign of destruction although he was rarely seen during the time. In episode 30, he appears and fuses with the Death Stinger after it was attacked by the gravity cannon, reviving it.
Ambient is last seen being absorbed by the Death Stinger's core along with Hiltz shortly before it is fused with the core of the Death Saurer, reanimating the ancient Zoid. However, unlike Hiltz, Ambient did not reappear as a part of the new Death Saurer Zoid Core. It is unclear of what happened to Ambient, as there is nothing to support that Ambient survived this event, nor anything proving that he was killed when the Death Saurer was destroyed or when he was absorbed by the Death Stinger's Zoid Core.
Personality
Edit
Ambient is shown to be cunning and manipulative, much like Hiltz. Ambient will do anything to make sure his goals are completed. Ambient is also shown to be violent, and appears to enjoy, or at least not mind, killing or harming others, making him sadistic like Hiltz.
Abilities
Edit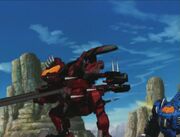 Like all Organoids, Ambient has the ability to fly, fuse with Zoids Core, and boost the power of Zoids. Like Zeke, Ambient can also heal a Zoid, and bring them back to life (such as the Death Stinger.)
It's interesting to point out that Ambient also "mutates" the Zoids he fuses with, such as a Gun Sniper and Stealth Viper.
Relationships
Edit
Like all other characters, Ambient has his own unique relationships;
Hiltz: Ambient is Hiltz's Organoid. While Ambient follows him everywhere, it has never been said that Ambient is Hiltz' friend, or if the two even care to be around one another. However, they are seen "talking" to one another on some occasions. It's never said if Ambient is forced to follow Hiltz, or does so willingly.
Reese: Reese is shown to not care much for the Organoid, but did joke with him once about fusing with the Geno Saurer, something Ambient appears to take offence to (he is shown "growling" at her.)
Zeke: While the two Organoids do not interact much, they do dislike one another. Ambient is able to defeat Zeke in combat once, but mostly for the fact he surprised, and then attacked him.
Shadow: Ambient and Shadow are also shown to have a dislike of one another, though they don't interact much.
Specula: Like the other Organoids, Specula and Ambient do not get along well. This is shown once when the two "growled" at one another.